victim of its own success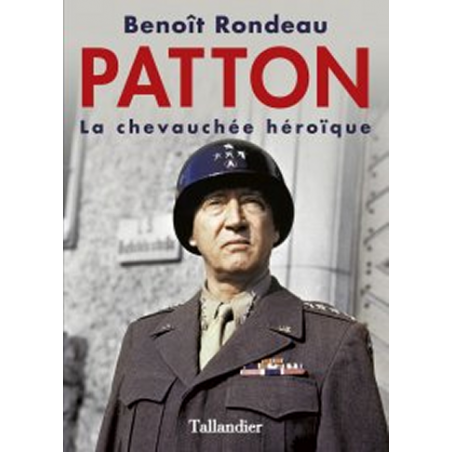 Patton - La chevauchée héroïque
George Smith Patton est le général américain le plus célèbre et le plus controversé de la Seconde Guerre mondiale. Surnommé « Blood and Guts » à cause de son tempérament colérique et intransigeant, il est doté d'un sens inné du commandement et d'un génie tactique incontestable. 
Free shipping on all orders over 40€
Only in metropolitan France
Secure Payment
CB / VISA / MASTERCARD / PAYPAL
Customer service
Open 5 days a week 9:30am to 5pm.
+33 2 31 06 06 53
À la tête de la 3e armée, il combat sans relâche, depuis la Tunisie jusqu'en Allemagne, devenant un véritable mythe. Originaire du Sud mais né dans le Far West californien, Patton possédait une personnalité haute en couleur : patriote convaincu, homme d'honneur, meneur audacieux aux coups de gueules retentissants, il suscitait autant de détestation que d'admiration auprès de ses soldats et de ses supérieurs. Avide de gloire depuis son plus jeune âge, Patton est persuadé d'être destiné à laisser son empreinte dans l'histoire militaire. Initiateur du développement de l'arme blindée aux États-Unis pendant la Première Guerre mondiale, il est l'un des pionniers de la guerre de mouvement au XXe siècle. Par son apport aux campagnes majeures de la Seconde Guerre mondiale – notamment lors de l'opération Torch en Afrique du Nord, de la percée d'Avranches ou de sa « chevauchée » dans les Ardennes –, il a contribué à conduire l'armée américaine à la victoire finale.
Benoît Rondeau nous offre aujourd'hui la première grande biographie de Patton. De son enfance dans le ranch familial à son séjour à West Point, des batailles de la Grande Guerre à l'épopée de la Seconde Guerre mondiale, il fait le portrait d'un général d'exception loin de n'être que le va-t-en-guerre magnifié par Hollywood et d'un homme complexe qui a su forger sa propre légende.
Author

Benoît Rondeau

Publisher

Tallandier

Number of pages

608

Release date / publication

14/11/2016

ISBN

9791021021907